The following is an excerpt of a Walk Score developed for This is Not a Slog. Text written by Nessah Muthy.




Help
Help me?
Help me build a nest will ya?
Help me?
Help?

Squawk
Squawk
Squawk
Oi
You
Yeah
You
Gis a hand will ya?
Help me build a nest?
Sounds silly I know, but, can't do it all on me own




A baby is on its way you see…the nest needs to big and warm
Soft
yet…
solid
Safe
A home…
Ain't no way I'm going back to the workhouse
the spike
the spike is what it is
Heard they is wanting to put me in mental Mott's
I ain't going there
No bloody fear
Calling me a lunatic
Me?!
Calling me a lunatic
Me?!
Think I don't know where they stole me brother to
Think I'm raving on it
Me?!
I know
Oh
I know alright
Me?!
I know!
I know it all.

Come on hurry up
Take something in case you get chilly
It's chilly
What can you find?




Take my patchwork
Follow the yellow stitches
Take my hat; it's not proper to go out without a hat
Take my bag




Do you see the church yard in the distance?
Pass the news stand on your right
Don't get tempted by the biscuits
Alright
I usually have one sniff and one whiff and move on




Careful
Careful
Careful as you cross that sea of spitting motor beasts
The horses buck
And the carts sometimes topple
Nasty
Very nasty

Into the church yard, please, the church yard has everything…
Ain't it beautiful?
Ain't it just your favourite place to be?
We're here now.
Take a breath.
Only the one.
Are you ready?
Your eyes need to be sharp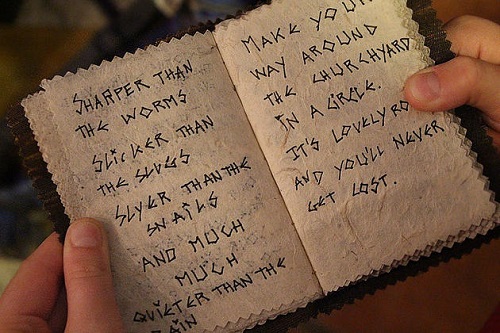 Make your way round in a circle.
I need: feathers, bark, leaves, stones, peace…
Can you make sure to collect a piece of the peace please?
Wear my gloves if you wish
Open my bag and you'll find my jars.




Peaceful ain't it? Eh?
Silence
Be still
Do you hear them?
Aren't they beautiful?
I often sings with them
Only with the sparrows and the finches mind
Never the pigeons or the crows
The piegeons is just out for themselves
And the crows, well, crows pick your eyes out as soon as look ya
I seen it
I knows it to be truthful

Look closely by the stones.
The stones can grumpy, stubborn, give them a tickle, a wiggle and they'll come.
Put the stones in the jar




I can't thank you enough…
Your offerings have healed me heart.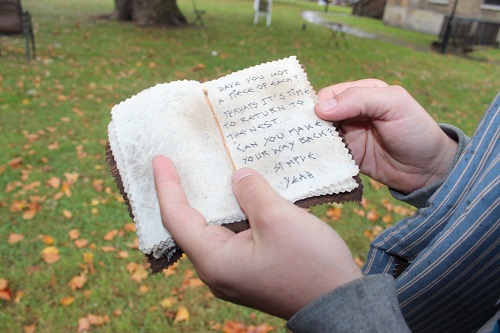 There is another trouble, that I'll trouble you with…
I've built me nest alright…but me breasts are still bone dry
It is a worry.

I'll try and feed the baby bird on worms and seeds…
That'll be alright won't it?
Worms and seeds
Worms and seeds
That's what all baby birds eat…isn't it?
I can't go back to the spike…
I…
I can't…
We'll be alright…
Mummy bird and baby bird, together, now, forever…
Squawk
Squawk
Squawk